Annie Imes - Private Eye?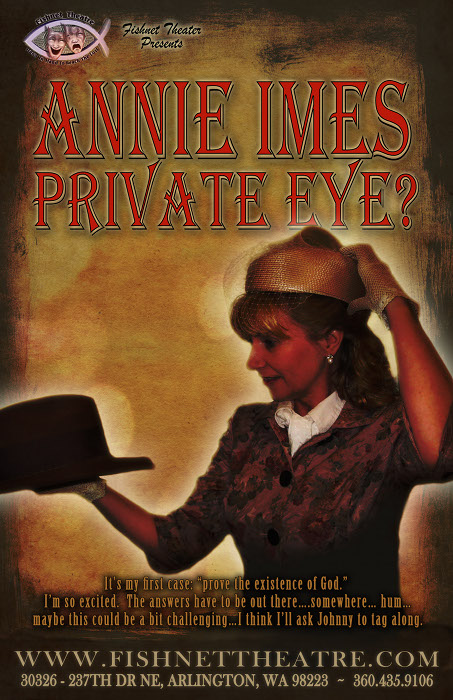 Fishnet Theatre is proud to present Annie Imes: Private Eye? for its 2011-2012 season.
"It's my first case—I'm so excited! I'm Annie Imes, wife of the famous detective Johnny Imes. All those years following Johnny while he solved cases has totally prepared me for this case: "Prove the existence of God." Now, I know people have been asking if God exists for years… um, decades… okay, pretty much since time began. But the answers have to be out there… somewhere… hmmm… maybe this could be a bit challenging. I
think I'll ask Johnny to tag along…."
Characters
Character
Description
Annie Imes
Comes across as Johnny's ditsy blonde secretary but is a good detective in her own right. She tends to ramble on and on. Her compassion for others is her most endearing trait.  Age: 20s-40s.
Johnny Imes
A strong, quick-witted private eye who is not afraid to take on any case. It is the middle of the Great Depression and Johnny and ANnie, who is also his wife, barely get by.  Age: 20s-50s.
Lucy
Kind of a hard woman. She has had to run the diner by herself for many years now and she is very self-reliant.  Age: 30s-50s.
Ginger
Once one of mob boss Alvin Santago's "girls," but now, with Johnny's help, she has sestified against Alvin and found the peace that only Christ can bring. She is anxious to help others escape the life of crime.  Age: 20s-30s.
Pastor White
An intelligent man who is well respected in the community. He has helped Johnny in many of his cases.  Age: 30s-60s.
Tony
A young thug who is drunk with power and blind obedience to mob boss Alvin Santago. He is not the brightest of men.  Age: 20s-30s.
Dr. Staininski
A very intelligent man which makes him a little eccentric. He is a little socially awkward and likes to laugh at his own jokes.  Age: 30s-60s.
Professor Overby
A quiet, scholarly professor who has a love for knowledge. (S)He is an old friend of both Pastor WHite and Dr. Staininski.  Age: 40s-60s.
Tour Crew
Position
Crew Member
Executive Director
Barry Stainer
Executive Producer
Brent Stainer
Units
Fishnet Theatre's touring schedule is split across four separate units which are scheduled in four distinct regions and time periods.
Unit Region
Touring Period
Unit Directory
Unit Producer
Lynnwood Unit
September – November, 2011
Barry Stainer
Bill MacCully
Arlington Unit
December, 2011 – February, 2012
Brent Stainer
Reta Keeney
Everett Unit
March – May, 2012
David Potter
Michelle Potter
Kirkland Unit
June – July, 2012
Ruth Stainer
Lenore Leckvold
Upcoming Performances
No performances at this location